Today I happened to come across and stumble upon Chooster for iPhone by Chooster Inc while doing my weekly roundup of the familiar App Store applications, and I was greatly intrigued since it looked like a special. The app was something set it apart from the others, so I had to try it out. Then I've spent some time with it and so far I have to surely admit that I'm far assuaged by this nice accolade of gem. For the developer's successful release on the App Store, I trust that they did a splendid job with Chooster for iPhone.
Mostly people are situation of dilemma, particularly what to wear, what to cook, what kind of costumes they should wear and a lot more interesting queries. During that time, users ask their parents, friends or just see the mirror and take their own opinion. Is there any solution which helps users to decide quickly? Definitely you have an app namely Chooster which is the quality way to get fast and perfect answers to all of your doubts. This reputed app is qualitatively compatible with iPhone, iPad and iPod touch having iOS 8.0 or any later version of the Operating System.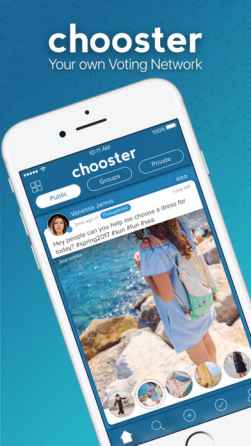 In case if global users are going to a party and can't decide which apt dress you should wear, then no problem, just download the Chooster app from the App Store and install it on your phone. You can begin creating your profile and make new friends. It is also possible to create a post with a hashtag and some pictures of your dresses. Meanwhile you can also upload video, audio, etc. and upload up to 5 different choices for your friends and family to vote on.
Moreover the global users can create the post whether public or private. Now anyone can vote on the given choices and according to that you can select the dress quickly and your problem would be immensely solved. In addition you can also ask the Chooster community for their opinion also.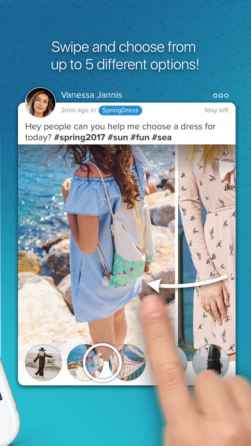 Simultaneously you can assist others also when they are confused about something and vote on their posts which might include fashion, beauty, travel, technology, sports and many more categories. This popular app is full of fun and entertainment where users enjoy every second of it.
Salient Features:
With the help of Chooster app the global users can upload variety of pictures, videos, audio clips and texts and eventually create public as well as private polls.
The users can create a Yes or No poll by selecting one option only.
The users who are in your profile or not in your friends list can vote at the polls that were actually posted publicly.
It is also possible to explore trending polls, familiar groups and featured hashtags.
If global users wish to get in touch with new people, then you can actively discover and immensely follow new accounts.
This popular app will surely help you to make new friends, engage with them and your family. Altogether this Chooster app provides a lot of things to do that other apps can't afford. It is a special title I'll be coming back over again in the future, and I highly suggest it for anyone who thoroughly enjoys beneficial app.
APPSREAD RECOMMENDS CHOOSTER: DOWNLOAD APP HERE